Studio Insites
At Insite Studio we are passionate about landscape architecture and land planning. We are extremely involved in the industry, and wish to bring you the latest updates and trends from across the globe — not to mention what is happening right here in our West Palm Beach office. We look forward to your feedback and contribution.
Please take a moment to browse our new edition of 'Studio Insites" — our online newsletter.
CS/CS/HB 7103 — Community Development and Housing
The Florida Legislature recently passed HB 7103 which amends various provisions of current law pertaining to community planning, land development regulations, affordable housing and fire safety requirements.
• Affordable Housing - This bill requires local governments that have inclusionary or required affordable housing, must provide incentives to fully offset all costs to the developer for the affordable housing contribution.
• Development Order Time Limitation – This bill would require all development order applications be approved, approved with conditions or denied within 180 days by a local government.
• Impact Fees – This bill prohibits local governments from requiring the payment of impact fees prior to issuing a property's building permit.
• Fire Safety – This bill extends the deadline to retrofit multi-family buildings 75 feet or taller with a fire sprinkler system or engineered life safety system until January 1, 2024. It also allows for unit owners by majority vote to forego the retrofitting with a sprinkler system.

The HB 7103 was signed by the governor on June 28, 2019. To read more please follow this link.
Lotis in Wellington: Project proposal featured in The Palm Beach Post
Insite Studio is working with JKM Development on a Mixed Use development in the heart of the Village of Wellington. The development plan includes approximately 50,000 square feet of unique retail and restaurant space, 60,000 square feet of professional and medical office integrated with a mixture of luxury rental residences, independent senior living and assisted living communities.
The Lotis development is being designed with a modern and clean architecture style, and will place a priority on the connectivity of uses and the pedestrian experience. Lotis Wellington is sure to become "the" place to live, work and play within the Village of Wellington.
See more proposal details from the Palm Beach Post editorial on Friday, May 10.
Insite Studio obtains zoning approval for redevelopment of Boca Dunes Golf Course
On January 24th, Insite Studio Principal Brian Terry obtained zoning approval from the Palm Beach County Board of County Commissioners for the redevelopment of 56 acres of the Boca Dunes Golf Course. The developer, Zom Living, will be constructing 354 multifamily units within the first phase of development, which is scheduled to begin in late 2019.
Insite Studio has been working with the development team providing planning and landscape architecture services for this exciting project. The site, in West Boca Raton, has been designed to accommodate an additional 90 units to be built in a future phase. Amenities include the re-design of the 18-hole executive golf course, a resort style pool, dog park and extensive trail system.
Insite Studio's first charitable event benefits Elementary students in Palm Beach County
In early November, 2018 Insite Studio hosted a gathering of charitable clients, family and friends to watch the Georgia Bulldogs play the Kentucky Wildcats in a SEC showdown.
While watching the game and enjoying traditional southern barbeque, guests were encouraged to donate or register in a silent auction. All proceeds of the event have since been donated to an exciting start-up project benefiting elementary school students in Palm Beach County.
With generous donations from Frenchman's Creek Beach & Country Club, Old Palm Golf Club and Woodfield County Club, Insite Studio raised $1300 for the Conservatory School at North Palm Beach Golf Club.
The Conservatory School, in partnership with The First Tee of the Palm Beaches has started a golf club for local elementary school students. The Golf Club teaches the fundamentals of both golf and life to students at various facilities throughout Palm Beach County.
The money raised with help construction of a synthetic turf putting green at the school. The event marks the first of many charitable events which Insite Studio plans to host to benefit specific charities and give back to the local community.
Insite Studio celebrate their Ribbon Cutting Ceremony and Open House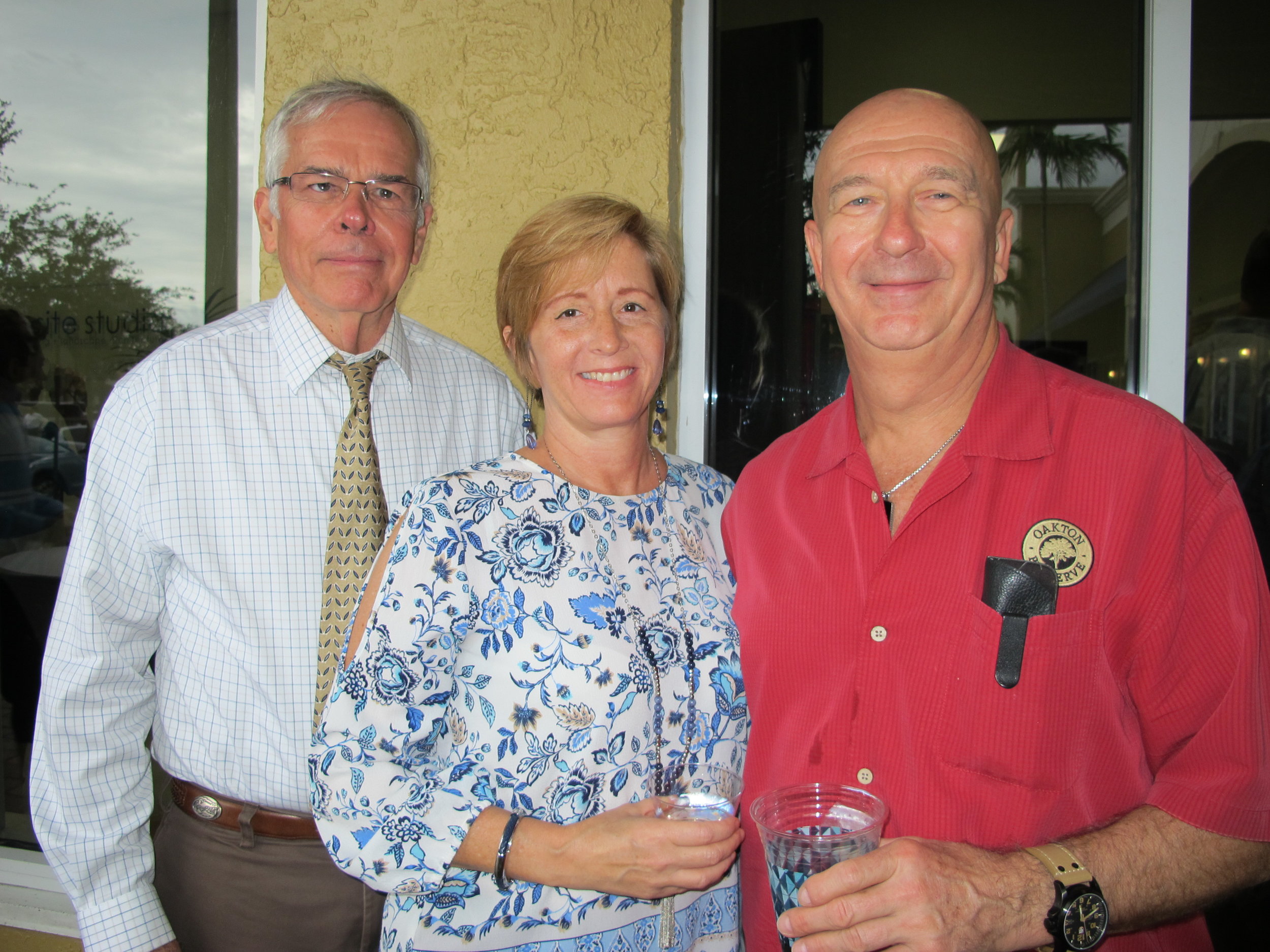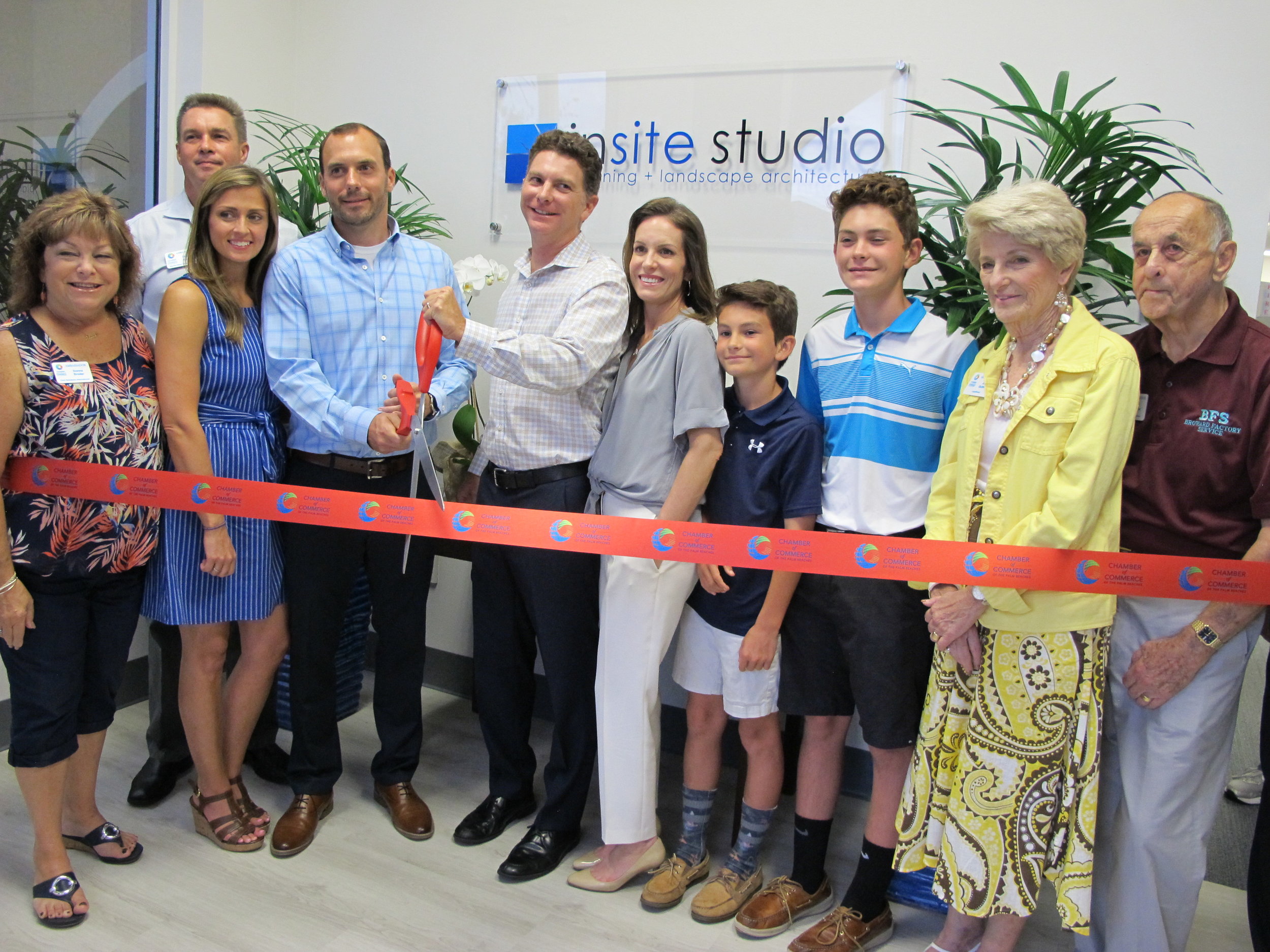 The Palm Beach County business community has welcomed the newly- founded, Insite Studio, a Planning and Landscape Architecture consulting firm headed up by two experienced Landscape Architects, Brian Terry and Bryan Donahue.
With over 30 years of combined experience, the businessmen and longtime friends are passionate about design, and believe a true hands-on approach is key to the successful design and completion of development projects.
With the support of the Chamber of Commerce of the Palm Beaches, Insite Studio recently celebrated a ribbon-cutting ceremony with over 100 clients, colleagues, friends and family in their newly renovated offices located at 8144 Okeechobee Blvd. in West Palm Beach.
"It was a small gesture to thank our colleagues, clients, family and friends that have helped us get started. A new business does not just develop overnight. We are very grateful for the support we have been shown over the last few months," said Principal and Owner Brian Terry.
Business partner, Bryan Donahue echoed Terry's sentiments. "In our profession, we work hand in hand with our clients. From project conception to construction, we guide them through the process to make sure their initial vision is captured in the final built project.
This process can be quite lengthy and involved. We get to know our clients very well-- they become friends. Tonight was about thanking all of these people for their support. "
Terry concluded, "Insite Studio has exciting, long-term plans and we really hope all our clients and friends will be part of our journey. It's a great time in our careers and lives. We are really confident about our business model and the future of Insite Studio."